Finstrument SEPA Guidelines
You are about to prepare and submit the questionnaire and a required list of documents to process SEPA payments (collection through SEPA Debit or SEPA Uberweisung, SEPA payouts). Please, go through the below requirements and details thoroughly. If you have any questions, feel free to contact your account manager. Please, note that this may not be a final list of requirements and details and find more detailed guideline below in pdf.
Important: Finstrument SEPA is provided by its partner solutions, including SEPA EXPRESS. All merchants will be integrated with Finstrument Technologies directly.
GENERAL INFORMATION, RELEVANT FOR ALL STAKEHOLDERS
1 What is SEPA, countries, benefits
SEPA (Single Euro Payment Area) is a European regulatory initiative to create a standard scheme for processing transactions in Euro currency across 35 markets. Since the 1st of February 2016 it is mandatory to imitate all SEPA transactions with IBAN (and BIC).
The following 21 countries are ready for SEPA DirectDebit (currently only in EUR):
Austria (EUR)
Belgium (EUR)
Cyprus (EUR)
Estonia (EUR)
Finland (EUR)
France (EUR)
Germany (EUR)
Greece (EUR)

Ireland (EUR)
Italy (EUR)
Latvia (EUR)
Lithuania (EUR)
Luxembourg (EUR)
Malta (EUR)
Monaco (EUR)
Netherlands (EUR)

Portugal (EUR)
Slovakia (EUR)
San Marino (EUR)
Slovenia (EUR)
Spain (EUR)
Bulgaria
Croatia
Czech Republic
Denmark

United Kingdom
Hungary
Iceland
Liechtenstein
Norway
Poland
Romania
Sweden
Switzerland
Andorra
There are three relevant, different payment options in SEPA:
SEPA Direct Debit (SDD)
SEPA Credit Transfer (SCT)
SEPA Instant Credit Transfer (ICT)
Benefits SDD
- Preferred payment method: 45% of European customers prefer to pay by SEPA DirectDebit rather than by Credit Card – it is safe and easy.
- High Market Penetration: 500.000.000 SEPA DirectDebit bank accounts translated into 500.000.000 potential consumers in 34 European countries. 90% of Europeans have a bank account – that is almost twice the Credit Card distribution in Europe.
- Cost Saving: With an attractive savings potential of more than 50% in fees, SEPA DirectDebit is one of the most cost-effective alternative payment methods for merchants throughout Europe.
Benefits SCT
- Fast payout: recipient get funding the next bank working day.
2 Creditor ID
This number is used for identifying the creditor (i.e. the party initiating the direct debit /collection) in SEPA schemes. Every SEPA transaction request must contain a valid CreditorID.
3 Mandate
The shopper should first mandate the shop and thereby allow the merchant in written notice to debit his bank account. For this notice a Mandate ID has to be created, which has to be a unique identifier between merchant and shopper and is required for any SEPA DirectDebit request. For recurring payments only one initial mandate process is needed.
Types of mandate:
Checkbox Mandate.
OTP Mandate
Strong Customer Authentication Mandate
SEPAexpress contains all types of mandate processes. Other mandate providers can be integrated easily.
4 What is SEPAexpress, benefits
SEPAexpress is a white label DirectDebit and Payout solution for the online and offline sector (e.g. Corporates, Solution Providers and Institutions) and enables companies not only to easily process DirectDebits and Payouts but do it in an optimized way.
Benefits SEPAexpress
- Success Rate Optimization – Constantly optimized success rates and faster return flow of liquidity due to value added services like specialized risk tools, multi-level chargeback fighting or even full liability shift.
- Faster Status Updated: Due to our innovative payment engine, we receive Status updates within hours, not days.
- For All your Verticals – with SEPAexpress you can offer all your verticals the right payment instrument. Even "high-risk merchants" no longer need to be your risk.
- Complexity Reduction – Reduces DirectDebit management to a minimum of complexity due to 3rd party processing and SEPA specific services (e.g. mandate- and prenotification handling, tokenization, etc.)
- Flexible Integration – Flexible integration for online and offline payment processing through your existing interfaces (single API calls or bulk processing).
- Reduced total costs – Reduced total costs for processing DirectDebits due to our unique banking network.
- No competitor combines this All-In-One approach in one simple integration!
PROCESS FLOW SEPA, RELEVANT FOR ALL STAKEHOLDERS
1 SEPA DirectDebit Processing, Mandate, Collection, Reconciliation
Process of SEPA Direct Debit payment and status updates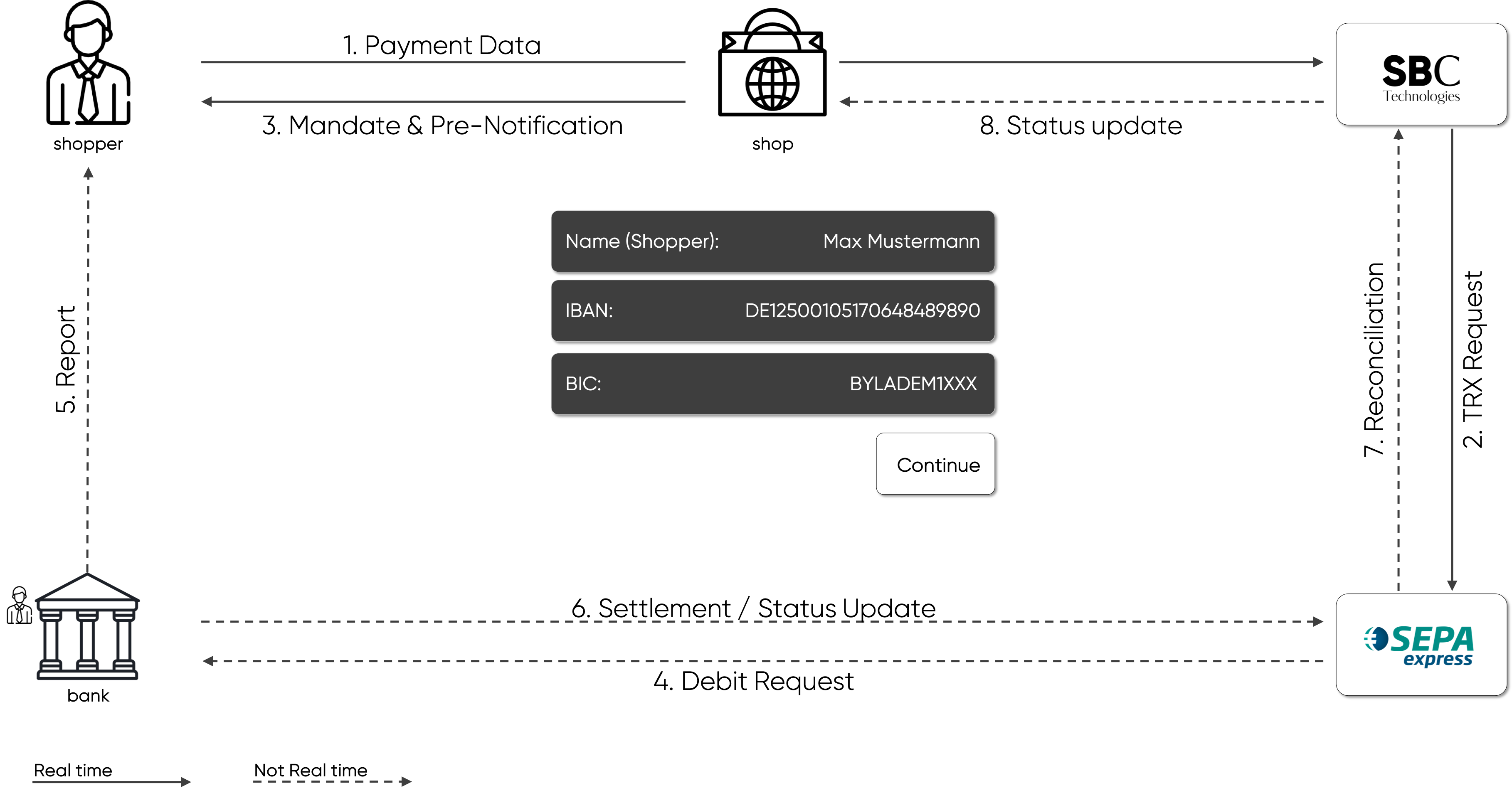 2 SEPA Refund Processing, Settlement, Reconciliation
Process of SEPA Refund payment and status updates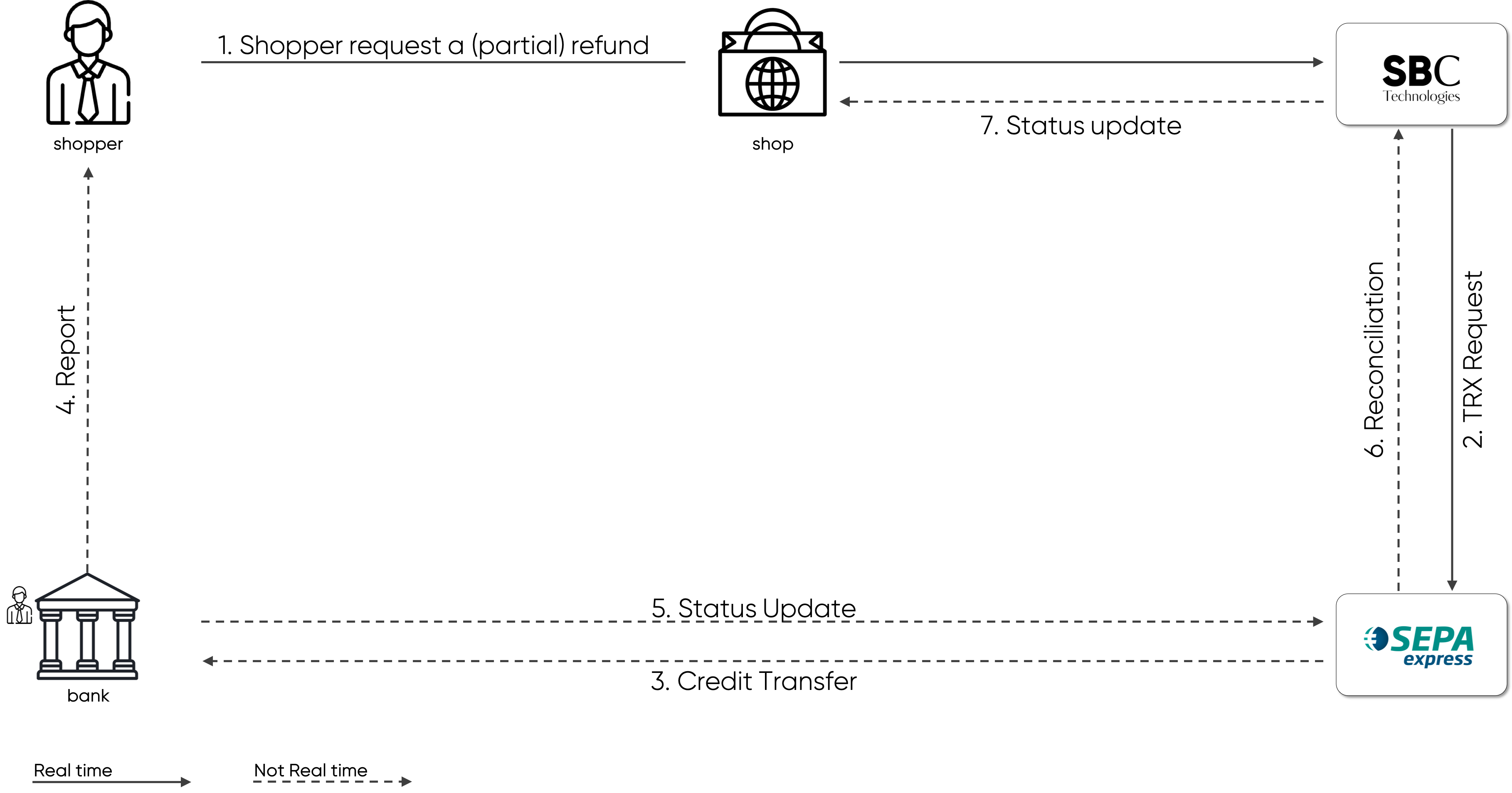 3 SEPA Payout Processing, Funding, Settlement, Reconciliation
Process of SEPA Payout and status updates (example: merchant is recipient)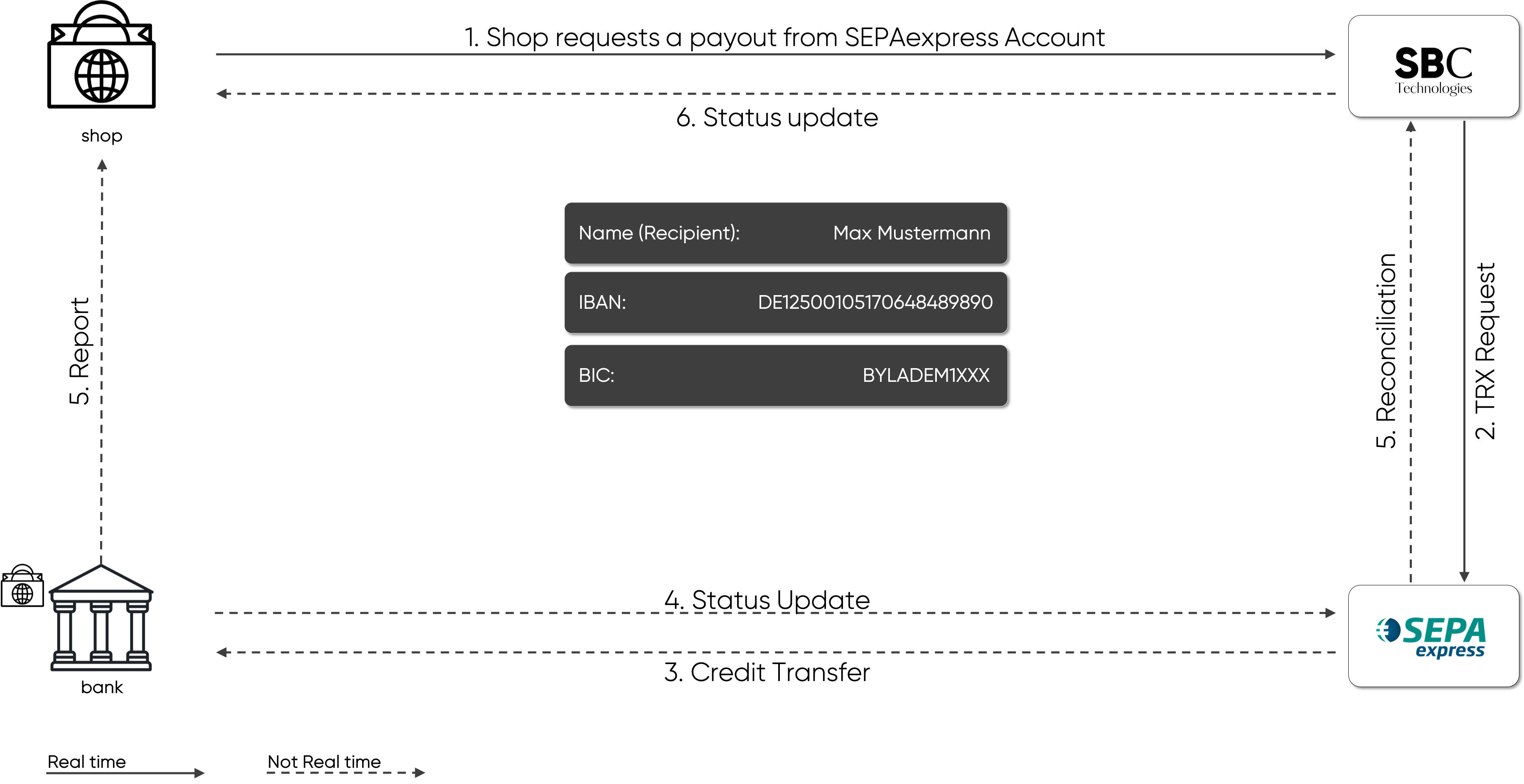 MERCHANT SETUP, RELEVANT FOR UNDERWRITING AND SALES
1 Accepted Verticals
Physical Goods: Consumer Goods, Distance trade (mail order) and brick and mortar shop; All sales channels
Digital Goods: DL (Music/ SW); Gaming; Apps/ SaaS; Adult
Services: Travel and mobility, Ticketing, Rental, Insurer, Supplier
Ideal target groups: digital goods, subscriptions, recurring payments.
2 Merchant on boarding
The standard merchant onboarding approval is within 5 business days. After successful onboarding SEPAexpress assigns a unique ID for the merchant, that is mandatory for every request to our API.
3 Required Documents
New merchants have to be sent to SEPAexpress for boarding and Id configuration, before their SEPA payments can be processed.
SEPAexpress requires the following documents for European and US companies:
In addition to the standard Merchant Application Form of PSP (please always provide the latest version!) including the required documents, please also provide
- Audited Financial statements last two years (if available)
- OrgChart, until UBO > 25%
- In general: Originals or certified copies should not be older than 3 months
BUSINESSES THAT QUALIFY FOR Finstrument SEPA
Generally, there are no limitations to business type unless these are illegal businesses (it means illegal in nature or does not have proper and required licenses).
Physical Goods Stores
Gambling industry
Gaming industry
Dating websites
Ticket sales companies
Rental companies
Suppliers
Insurance industry
Travel and mobility companies
LIMITATIONS AND RESTRICTIONS:
Settlement currency – EUR
Processing currencies – EUR
Maximum transaction amount – 50 000 Euro
Single and regular transactions – Yes
Fixed or variable transaction amounts – Yes
Refunds and partial refunds – Yes
Payouts – Yes
Settlement delay – 2 days